Next Generation Keepers is a soccer school specializing in goalkeeper training. Our Mission is to provide the opportunity for youth goalkeepers at the local level to enjoy professional training for this particular position, in order to give them the right tools to perform in the game in a safe and efficient way. We believe that youth keepers deserve to receive specialized instruction to reach their full potential, which may be playing professional, getting a University scholarship or simply enjoying sport as an opportunity for a better lifestyle. We provide goalkeeper programs, camps and clinics in the Greater Toronto Area and our main focus is on the development of youth keepers from the ages of 7 to 18 years old.
Our modern methodology of training is based on practices from many professional clubs throughout Europe and implemented by a qualified/experienced coaching staff. The Next Generation Keepers have created an environment with a strong identity, allowing goalkeepers to learn the right tools, acquire knowledge, and receive constant support to perform to the best of their ability.
Our sessions are designed to inspire the athletes to seek constant improvement, by using specific tactics that allow them to challenge themselves while keeping a smile on their face. This training style helps the goalkeepers to improve their coordination and motor skill, technique, confidence, and decision making, a toolkit that will support them throughout their careers.
Our coaching team is committed to supporting our student's technically and psychologically from the beginning to the end of their journey, offering hands-on training and guidance. We are accountable for ensuring our goalkeepers learn while having fun.
Happiness and enjoyment are the best motivation to achieve success, especially in a position that exposes our students to a high level of pressure. We believe that through sports, youth can learn how to socialize, work in groups, and gain valuable life experience by learning how to problem-solve in a variety of situations.
The NextGK School wants to develop great athletes and even better people. Goalkeepers are always the number one, on and off the field!
Our school was founded in 2014 by Mister Emanuele Ameltonis, Former Italian Professional Goalkeeper, Uefa B License & US Advance GK Diploma. Initially, it was created through a network of professionals with a great passion for the goalkeeper role, possessing tremendous knowledge and experience about the tools and techniques needed for this great position. Open discussions and sharing ideas to create a unique and strong identity is the philosophy that accompanies us since the beginning of this project. With hard work and dedication, the Next Generation Keepers became a reference point for many athletes, coaches, and parents.
With increased demand in the soccer community, the growth of followers and students, this school for goalkeepers has reached milestones that have, year over year, brought satisfaction and rewarding experiences to who has great dedication for this fantastic position. Our school has also expanded its reach with worldwide connections and collaborations.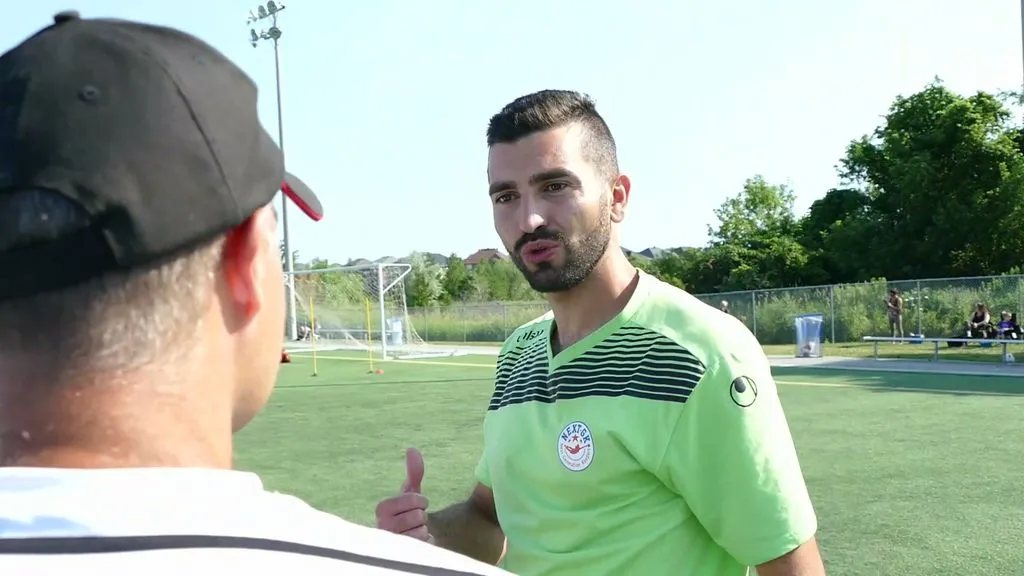 In the picture above NextGK school Director Mister Emanuele Ameltonis during the NextGK International 2019 Summer Camp.
We provide extensive goalkeeper programs with qualified coaches for a variety of clubs and academies throughout Ontario, year round in both indoor and outdoor seasons. We offer private programs and camps at all levels for athletes looking for extra training to improve their skill level, as well as a chance to earn a scholarship, or to even possibly compete at the highest levels of professional soccer.
With our contacts and affiliations throughout Europe, we are committed to offering professional opportunities to all players who meet the high requirements demanded in professional soccer. Through unique sporting and cultural experiences, we offer the chance of growth and success overseas both as athletes and as people.
We offer professional goalkeeper training focusing on a soccer methodology that starts from teaching basic goalkeeping techniques to building goalkeeper awareness and confidence in this position.